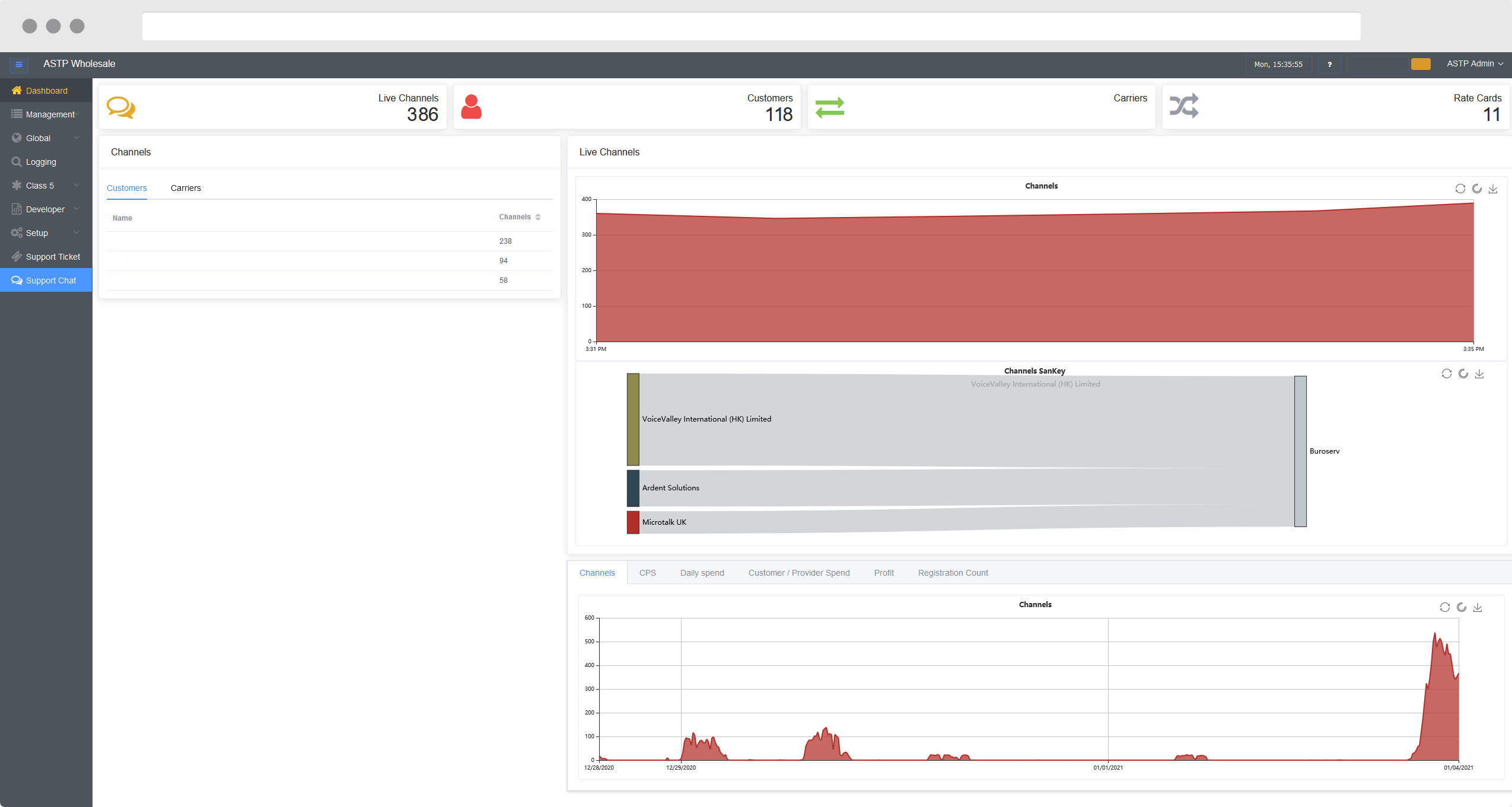 At ASTP Wholesale, we provide a state-of-the-art multi-tenant carrier grade softswitch, billing solutions, Microsoft Teams Direct Routing, systems maintenance, updates and development of new features. We also supply highly competitive wholesale call termination and DID/DDI rates.
As your own Telco Business, you can develop call plans, advertise your business, and provide support and assistance to your clients. This system is fully re-brandable and there will be no reference to ASTP or any other Wholesale Provider.
International Phone Numbers
Australian Domestic Numbers
Customer Portal
Fully re-branded customer portal, as well as reports and invoices
Complete Control
Complete control over your own customer Hosted VoIP PBX Phone System
Local Assistance
As the wholesaler, we don't contact your customers, but we can assist with complex technical issues that your end-users may experience.
Rate Plans
Your own customised call plans
Custom Invoicing
Your own monthly recurring service fees – customer charges set by you
Sub-Resellers
Your own white-labelled partners and agents, who can also refer your services to others
Sub-Resellers
Your own white-labelled partners and agents, who can also refer your services to others
Techinical Help
Allowances for end-user technical support during peak times
DID/DDI Termination
Sell DIDs/DDIs, termination, software licenses at the rate you want, and our rates remain the same
Freedom to Sell
Freedom to sell your own equipment or additional services (e.g. system setup, cabling etc)
Custom Pricing
Set your own prices for equipment, porting charges and other additional services you may offer
Pre Paid - Postpaid
Ability to provide pre-paid and post-paid accounts to end-users

Discuss your Wholesale Voice requirements with us now:
ASTP Wholesale PTY LTD
ABN: 20 637 552 071
"While other networks might build experience in the status quo – we've built our communications in a simpler, smarter and more cost-effective way"